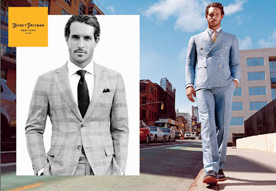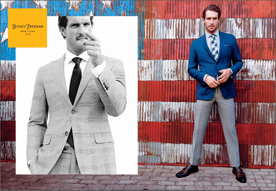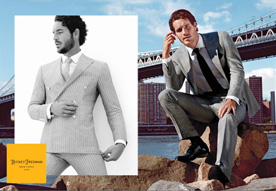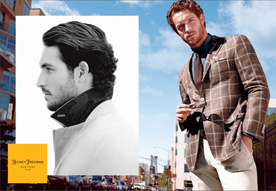 When something is classic, it never goes out of style.
In the suiting world, nothing spells classic better than a Hickey Freeman suit. The Rochester, NY men's suit maker has dressed iconic celebrities and the everyday businessman alike for over a century. The best fabrics, great construction; a man dressed in a Hickey Freeman suit defines American Luxury.
This Spring, the iconic sartorial staple is freshening up their image – after all, they've been around since 1899. In a time when men want more choices, more color, more creativity with the way they dress, Hickey Freeman is stepping up to answer that call.
They've always produced one of the best suits available, don't get us wrong – but like any good business, they know you have to keep evolving in order to offer customers the very best. Here's what you can expect from the new Hickey Freeman:
Craftsmanship that rivals the best made garments at a far more competitive price
Their Made-to-Measure swatch library has doubled. Look for the most luxurious, exclusive, and innovative fabrics on the market.
Enhanced craftsmanship: hand turned and felled collar; hand sewn shoulder basting; finer canvases, chest piece and shoulder for a lighter, more comfortable garment; scalloped facing interior; yarn dyed Bemberg lining; Corozo nut and horn buttons; pure Italian cotton pocketing and waistband interior; fabrics upgraded and elevated to some of the finest in the world.
One of the most exciting of these updates is their new fabric library for Made-to-Measure. You can see their expanded collection at Bell's, which showcases fabrics from high-tech performance to the rarest exotic Super 200's and cashmeres.
A trend which has gained a lot of ground in menswear is the trimmer-fitting suit. Hickey Freeman's Heritage model provides this look with modern silhouettes with a true soft shoulder, and their new Weightless version is as easy to wear as a second skin.
In the Bespoke collection, they offer their quintessential custom construction: hand felled armholes and shoulder seams; hand sewn button holes; pick stitched and hand tacked vents and pockets; hand made boutonniere loop; pleated curtain waistbands; hand sewn trouser fly; gold plated zipper.
The new Hickey Freeman isn't limited to only their Made-to-Measure offerings. Their in stock program is double the size previously offered, and now offers Traveler, Tasmanian and formalwear product, as well as a seasonal fashion group that adds a layer of style and interesting fabrics rarely found in a stock program. Updated fits and silhouettes with a softer shoulder.
We invite you to visit Bell's on the Old Town Mall in Winchester to see the new Hickey Freeman.