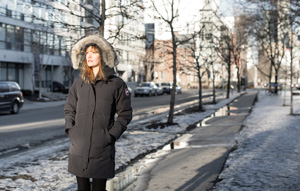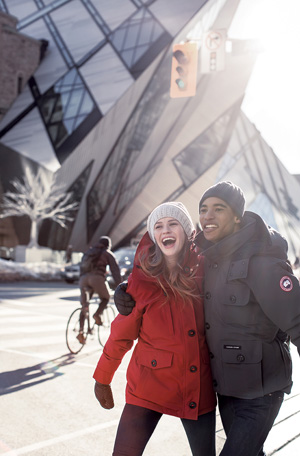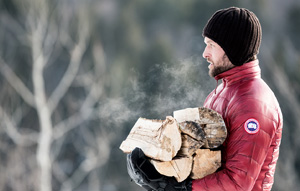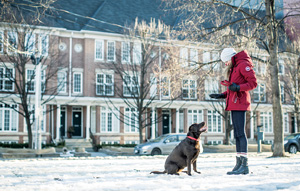 After the warmth of the holiday season has subsided, living in northern Virginia we are left with the brutal cold reality that winter has indeed, just started.
Last year's bone-chilling winter is a not-so-distant memory – highs in the teens on many days with the wind chill taking us below that. When did Winchester become Antarctica?
For those who are looking to stay warm in the best possible way, Bell's carries one of the warmest coats you'll ever slip your arms into – Canada Goose.
What makes this down coat superior to the rest?
It begins with their 40 years of industry-leading understanding of down insulation technology. They choose the best blends of down to suit the specific requirements of each of their coats – they have 5 "levels" of warmth.  All of the blends includes Hutterite down, which retains more warm air than other types of down, resulting in a lighter-weight jacket.
Many of the jackets have removable coyote fur around the hoods, chosen because it never freezes, doesn't hold water, and the uneven hair lengths create a windbreak that protects exposed skin – helping to reduce heat loss from the face.
You may be thinking, "I'm only walking around the streets of northern Virginia, do I really need a coat suited for an artic expedition?"
Canada Goose coats are made not only for the artic, but urban environments as well. We earlier mentioned "the 5 levels of warmth"  – it's what Canada Goose calls their Thermal Experience Index (TEI). This ranking will help you to select a coat based on your needs. It starts with TEI 1,  which will keep you warm through 24 degrees down to TEI 5, for -22 degrees. For this region, we recommend a coat of TEI 2 (down to 5) or TEI 3 (down to -4). Bell's has coats of TEI 2, 3, and 4 available now for both men and ladies.
Canada Goose exploded in popularity this year – with celebrities like Matt Damon, Daniel Craig and Claire Danes snatching them up; plus their "Goosepeople" campaign – making them hard to find. Demand exceeds supply. Available in only high-end department stores and specialty shops like Bell's, many stores are sold out completely for this season. Genuine Canada Goose apparel can only be purchased from a licensed dealer, like Bell's. Be sure to visit us on the Loudoun Street Mall in Old Town Winchester to try one on.
*Photos provided by Canada Goose