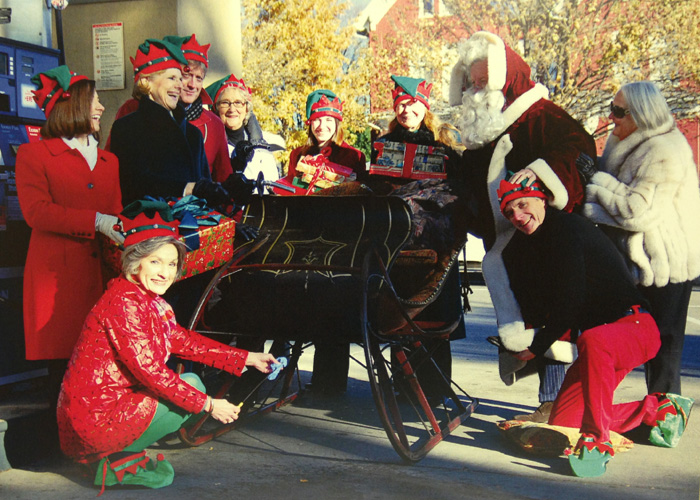 Favorite Christmas movie/TV special:
Georgiana: Miracle on 34th Street. It's a tradition to sit and watch it as a family.
Scott: A Christmas Story – because it's funny. I watch it every year.
Jenny: National Lampoon's Christmas Vacation. For some reason, I never saw it until college, and judging by the amount of times I've seen it since, I think I've made up for the lost time.
Kim: It's a Wonderful Life
It's not Christmas until…
Stephen: Until Mom makes her Swedish Tea Cake. I won't let her into the house without it.
Scott: Until I finish my Christmas shopping.
Georgiana: Until I celebrate with my children and grandchildren.
Kim:  It was never really Christmas until the kids came down the stairs, and the dog had his stocking and is walking around with a toy in his mouth.
Sarah: Until all of the planning comes together – the wrapping, the tree decorating, and cooking.
Irv: Until I'm residing with coffee and Sarah's Swedish Tea Cake by the fireplace and Christmas tree on Christmas morning.
Rachel: The tree is up and the candles are in the window.
Favorite Christmas song?
Rachel: O Holy Night is my favorite song, it's so pretty.
Jenny: The Christmas Song by Nat King Cole and Have Yourself a Merry Little Christmas, by Frank Sinatra. They both capture the imagery and feeling of the season.
G: I love, love, love Silver Bells, especially when my best friend Ed plays it on his piano. I love his arrangement.
Sarah: My favorite part of Christmas is the music. O Holy Night and White Christmas are very special.
Amber: O Holy Night
Favorite Christmas cookie?
Georgiana: I do a peanut butter cookie with a bite-sized Snickers rolled into it – I made it up!
Barbara: Peanut Butter Temptation – I make them every year!
Rachel: All of them!
Amber: Peanut Butter Blossoms – the cookie with the Hershey Kiss on top.
Christmas isn't complete without _______ on the table:
Scott: The pecan pie my mom makes every year.
Rachel: Beef tenderloin with horseradish mousse, and pork roast with orange ginger sauce; I make them both every year.
Irv: Fresh Coconut cake
Barbara: Bread stuffing – I don't care if there is a turkey on the table, I just love the stuffing!
Favorite Christmas tradition?
Stephen: Christmas Eve service with the family
Jenny: Our family's Christmas Eve cocktail party, with extended family and neighbors. We put out every kind of hors d'oeuvres imaginable, plus cocktails and wine, and afterwards head to our church's Christmas Eve service.
Best Christmas gift given?
Irv: A diamond engagement ring – Christmas 1958