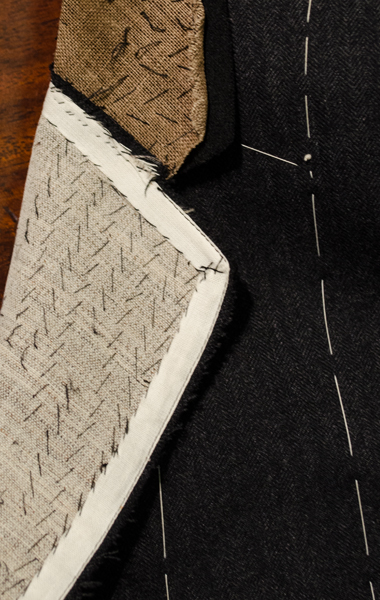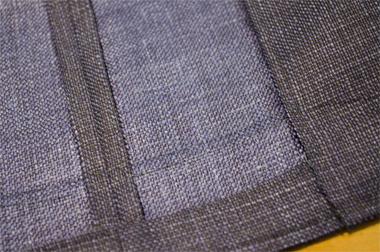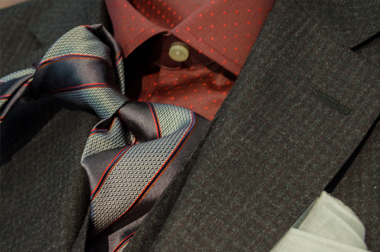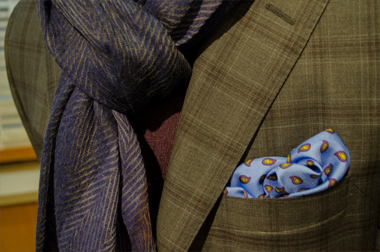 What makes the difference between a quality suit or sport coat versus a cheaply-made garment?
The lining, construction, fabric, and buttons used are the tell-tale signs which set a quality garment apart from cheaply-made garments.
Scott Shendow, third generation clothier, outlines what to look for when making an investment in a quality Suit or Jacket, working from the inside out:
Canvas
The canvas is a material, typically wool and horsehair, that lays between the outer jacket fabric and the lining of the jacket. (See photo at left.) The canvas is important because it keeps the balance, structure and shape of the garment the way intended. Over time, the canvas will conform to your body shape, leading to a better fit and comfort. The canvas should be hand-sewn into the garment and not fused (glued).
"When Dry Cleaned, a fused canvas may delaminate from the outer fabric of the jacket and will leave visible wrinkles on the garment, which cannot be removed by pressing" explained Scott.
Lining
"The lining is very important. The jacket should have a Bemberg lining instead of rayon or polyester lining. The Bemberg lining will last longer and is much more comfortable to wear as it's actually made of cotton and will breathe," he said.
"While a suit may be made with a top-quality wool, which is a breathable fabric, a synthetic lining will defeat the purpose of the nice fabric — it keeps moisture in and doesn't allow it to escape and evaporate, making you very uncomfortable."
A jacket can be fully-lined or half-lined. Contrary to common belief, a half-lined garment is more expensive to make because all the exposed inside seams have to be finished with no loose threads that make for a clean presentation. Inexpensive garments are all fully-lined, which can hide "a lot of sins".
Buttons
A quality suit or sport coat will have horn buttons and not plastic. Over time (and many trips to the dry cleaners) plastic buttons may crack or break and just do not have the pleasing beauty of the horn button.
Choices
Custom versus Off-the-Rack (already made) garment?
"A third of the clothing we sell is from our custom dept.,"
"Either the customer's size is not typical, wants the greater selection from hundreds of fabrics or desires his garment modeled a certain way. A few of the modeling options could include pick stitching, functional sleeve buttons, ticket pocket, pleated pants, peak lapels, center vent or side vent jacket or adding a vest."
Bell's carries Canali, Hickey Freeman, Hart Schaffner Marx, Jack Victor, Boglioli, and L.B.M.
"