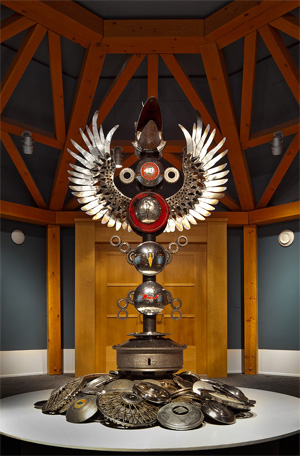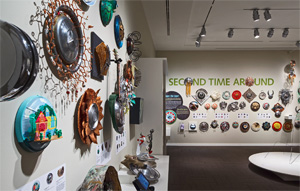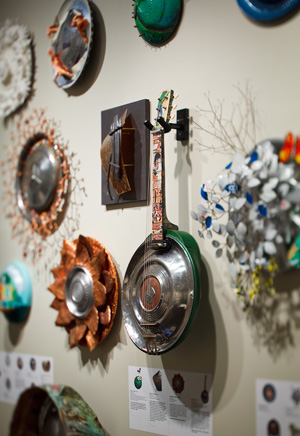 When you look at your car's hubcaps – what do you see?
Maybe some dirt, grime… probably not art, right?
Our regional museum, the Museum of the Shenandoah Valley, has recently opened Second Time Around: The Hubcap as Art. This debut exhibit – all work are being presented to the public for the first time in this exhibition – presents the work of 287 professional artists and art educators from around the world. Each artist whose work is included in the exhibition had accepted a challenge, issued by the nonprofit Landfillart Project, Wilkes-Barre, Pennsylvania, to make art out of a discarded hubcap or hubcaps.
With the goal of the project being to make a worldwide statement about the creative potential of reusing the world's resources, the artworks are from every U.S. state and 35 other countries. The exhibit opened on September 6 and is now on view through March 1, 2015. The MSV-organized exhibition has surprised and amazed visitors of all ages, says Museum Executive Director Dana Hand Evans. Evans notes that Second Time Around has been difficult to adequately describe. Even pictures of the individual artworks fail to capture the impact that their massing achieves in this exhibition, says Evans. "Whatever visitors were thinking when reading the phrase 'hubcap art,'" she says, "this exhibition has caused them to think again."
The exhibition's introductory gallery presents The Raven, a sculpture nearly eight feet high and weighing more than 600 pounds that is dramatically silhouetted against a backdrop of video footage showing scenes of scrapyards. From there, the visitor enters galleries that with creativity and color. Objects are stacked high on walls or hang suspended from them, with numerous sculptures presented on pedestals made of materials reused from the museum's previous projects. Several objects illuminate or are kinetic, and two were designed to be solar-powered. As one artist observed, the exhibition is not about hubcaps, but instead about the creativity that transformed them and the environmental message they seek to support.
The Museum of the Shenandoah Valley is located at 901 Amherst Street in Winchester, Virginia. The MSV complex—which includes galleries, the Glen Burnie House, and six acres of gardens—is open Tuesday through Sunday from 10 a.m. until 4 p.m. The Museum galleries are open year-round; the house and gardens are open April through October. Admission is $10 or $8 for seniors and youth ages 13 to 18. General admission is always free to youth ages 12 and under and to MSV Members, and thanks to generous sponsorship from Howard Shockey & Sons, Inc.,  it is free to all every Wednesday. Additional information is available at www.theMSV.org or by calling 540-662-1473, ext. 235
Photography contributed by The Museum of the Shenandoah Valley